On behalf of the constituents and components in Region 17, we want to welcome you to the Region's Web site! This Web site provides information on continuing education opportunities, local programs and events so that you are kept up-to-date on the latest news within the Region. We hope you will visit the site frequently. Add this Web site to your Favorites and check back for continuing education opportunities and other relevant issues.
REGION 17 DIRECTORY

Trustee: Dr. Demarcio Reed; (601) 951-0418
e-mail: demarcioreed@yahoo.com
Reg Director: Dr. Amar Kosaraju; (210) 415-6967
e-mail: amarkosaraju1@gmail.com
Exec Director: Dr. Martin Smallidge; (315) 725-3473
e-mail: martinsmallidge@gmail.com
Editor: Dr. Jerry Raybeck, VA; Col (AF ret); (702) 341-8430
e-mail: ukwildcatsfan@cox.net
Public Information Office: Dr. Andrew Klish
e-mail: ajklishdds@gmail.com

Army Constituency President: Dr. James Giesen; (206) 715-6679
e-mail:jimgiesen@gmail.com
Navy Constituency President: Dr. Jared Geller
e-mail: jaredageller@gmail.com
Air Force Constituency President: Dr. Christopher Jordan; (352) 216-3618
e-mail: john.a.safar.mil@mail.mil
Veteran's Affairs Constituency President: Dr. Thomas Dundon; (216) 701-0032
e-mail: thomas.dundon@va.gov
Public Health Service Constituency President: Dr. Ryan Gard
e-mail: ryanegard@gmail.com
Canadian Forces Dental Services Constituency President: Dr. Joel Doucette
e-mail: j.joel.doucette@gmail.com
Reasons to Join AGD

| | |
| --- | --- |
| | Commitment to life-long learning through quality continuing education |
| | Professional development |
| | Networking |
| | Award winning publications |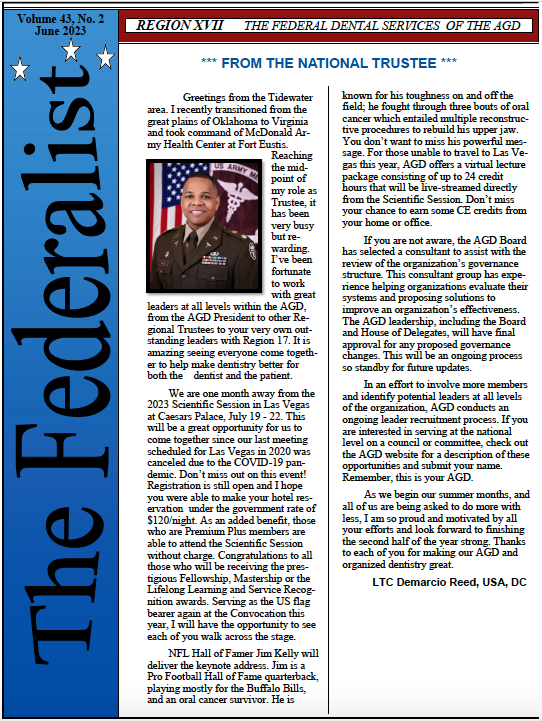 Share KnowYourTeeth.com with Patients…
KnowYourTeeth.com is the new consumer Web site that offers your patients dental health information in a fun and easy format from a source you already trust for dental education, the AGD.
Give us Your Opinion…
Share your thoughts and comments on the Region 17 Web site.
Send an e-mail to AGD Headquarters